Ball Morse Lowe is proud to announce the promotion of two new partners: Bow Bottomly and Roberto Seda.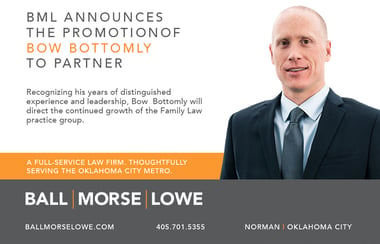 The exciting news was shared with the firm during our recent Q2 Social Event, where BML team members and their families gathered to swim, compete in a fierce bocce ball tournament, and enjoy a great meal together. Today, we continue to celebrate the persistent growth of the firm and the great people that make it the best place to work in Oklahoma.
Bow Bottomly - partner
Mr. Bottomly joined BML in July of 2012 after serving as an attorney in the United States Marine Corps. Approaching those early years with a "whatever it takes" mentality, Bow practiced in our Oil, Gas, + Energy group. Because he had tried many family law and criminal cases in the military, Bow was tasked with initiating our family law practice. Mr. Bottomly quickly found his passion for helping others in the often overwhelming process of divorce and/or child custody and was named a Top Five Divorce Attorney in the 2017 Oklahoman Readers' Choice Awards. Through his efforts to care for his clients and provide them with the best legal representation possible, the referrals have continued coming in at a rapid pace and BML now has three full-time family law attorneys as well as other attorneys and staff that serve our family law clients.
Roberto Seda - partner
Mr. Seda joined BML at the beginning of 2013. With a background in engineering and management, Roberto was an ideal fit to participate in and then help oversee the Oil, Gas, + Energy Title Examination group. Mr. Seda is a knowledge leader in the Title Examination space and is an active member of the OKC Mineral Lawyers Society, the OKC Real Property Lawyers Association, the OKC Association of Professional Landmen, the OKC Bar Association Real Property Law Section, and the Title Examination Standards Committee. Known for his attention to detail, broad knowledge, service to others, and fun personality, Roberto is the right person to help lead what has grown to become one of our largest practice areas into a very bright future.
Next: Learn more about each of our amazing team members, check out our open positions, or let us know how we can assist in your legal matter by calling 405-701-5355.