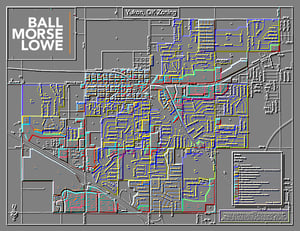 Last week, the City Council of Yukon enacted an ordinance to require retail medical marijuana establishments to obtain a permit and business license from the City, pay an annual permitting fee, and operate solely in commercially zoned areas of the city.
The Council also enacted a series of "Location Restrictions," establishing that permits "will not be granted" to applicants whose proposed place of business will be within 1,000 feet of several locations, including any library, museum, public playground, child care center, place of worship, public park, pool, recreational facility, juvenile or adult halfway house, correctional facility, substance abuse rehabilitation or treatment center, any residentially zoned district or any another
medical marijuana establishment.
Was this legal? Probably not.
The drafters of State Question 788 anticipated that some municipalities might take action like this, and attempted to prevent exactly this kind of behavior. One provision in the text of the 788 Statute (codified at 63 O.S. § 425A (F)) says, "No city or local municipality may unduly change or restrict zoning laws to prevent the opening of a retail marijuana establishment."
There's a strong argument that the Yukon City Council's ordinance is a violation of this statute. But what if this ordinance isn't a change to the city's "zoning laws," but something else altogether?
Municipal zoning in Oklahoma is governed by 11 O.S. § 43-101 et seq. But remember, the City Council's Ordinance also enacted a licensing and permitting scheme. Municipal licenses and permits are governed by separate provisions of Oklahoma law from zoning. Could the City of Yukon avoid the zoning prohibition in 788 by arguing this was a licensing measure, not a zoning measure?
Sure: you can argue anything. But the City would run into a couple of problems. First, a judge won't simply take the City's word for it. They'll examine the ordinance and make an independent determination about whether the measure is zoning or licensing.
There's another piece of evidence a court would take into consideration, though. The City Manager for Yukon said, in a quote obtained by Fox25 News, "If an individual feels that their location is restricted by the added items to the ordinance and they comply to state law they may appeal to the Board of Adjustment."
What's the Board of Adjustment? It's the local body established under Oklahoma law to hear appeals on zoning matters.
Anyone faced with an uncertain or challenging situation arising under Oklahoma law needs competent, thoughtful, creative, and talented lawyers to guide them through the process. If you're struggling with a legal problem, contact Ball Morse Lowe today.