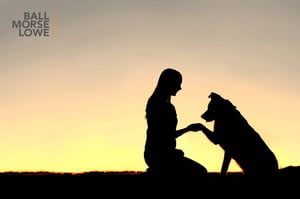 Living wills and advance directives are an important tool for making sure you provide your family with directions for the management of your healthcare and other corporeal needs in your last days of life.
However, planning ahead for your pet's last days is an important step in estate planning that many people forget to address.
When Your Pet Predeceases You: Plan Ahead for Your Pet's Last Days
Adoption of a pet is a tremendous act of love. Opening your heart to an animal is also an act of sacrifice, as responsible pet ownership entails a commitment of emotional and financial resources as well as time.
Unfortunately, pets frequently get overlooked during estate planning, which can complicate the grieving process. Making decisions in advance about how, when and where to end your pet's suffering and memorialize your animal friends will ease the burden of grief for you and your family members when your pets pass away.
Important Decisions to Discuss with Your Veterinarian
If you have a senior pet, deciding on the appropriate time to end your pet's suffering is a difficult decision, but can help ease the burden of grief in the long run.
Some pet owners would rather have their pet die at home, where their pet is most comfortable, rather than the vet examination room, which many pets associate with prodding, shots, and other indignities and discomforts. Make sure to ask your vet if she makes house calls to end your pet's suffering.
In addition, if you have a senior animal, talk to your vet in advance about an emergency plan in the event your pet's health takes a sudden downturn. If this situation occurs when your vet is out of town or unavailable, you will want to make sure you have a back-up veterinarian or an emergency pet hospital you can trust to take care of your pet's health needs when your regular veterinarian is unavailable.
Research these services in advance, and be sure to ask for recommendations for offices and staff with the compassion and experience necessary to comfort grieving pet parents.
Care of Your Pet's Remains
Planning for the burial of your pet is an important conversation to have with your veterinarian in advance of your pet's death, especially for equine owners, who face particular logistical challenges with burial. Regardless of whether you choose burial or cremation of your pet's remains, make sure to plan in advance to avoid the stress of having to scramble to find assistance with handling remains.
Some veterinarians will subcontract with pet cemetery and cremation providers, so if possible, be sure to ask about these options and research these options well in advance of your pet's death. Pet cremation is an option to consider for people who want to keep their pet's remains close.
Before choosing cremation, make sure to ask the provider whether or not they offer the option for individual pet cremation, and be aware that this will probably only be available at an additional cost. If you don't specify individual cremation, the provider may use communal cremation, which means your pet will be cremated with other animals, and the cremains returned to you may not be those of your pet, or may include the remains of other animals.
In addition, you will need to make decisions about the type of receptacle in which you would like your pet's cremains returned to you, so make sure you inquire in advance as to whether your provider offers a desirable range of receptacles from which you can choose, including modestly-priced receptacles. Alternatively, you may wish to inquire as to whether you can send your own vessel in which to have your pet's cremains returned to you.
If your pet or a livestock animal dies at home, and you want to bury your pet somewhere on your property, prior to disposing of your pet's remains, be sure to check state and local laws to ensure that you comply with all states and local statutes and ordinances, especially if you live on a small lot within city limits or close to a water supply.
In addition, make sure to consult with your veterinarian and research proper burial techniques to ensure that your pet's buried remains aren't inadvertently uncovered in the event of floods, renovations, or improvements on your property.
In addition, Oklahoma statutes at 21 O.S. §§ 1221-1223 impose criminal penalties for improper disposal of animal carcasses. For public health reasons, burial of animals who die of infectious diseases requires specific handling.
When You Predecease Your Pet: Pet Trusts
If you expect to have pets that will survive you, Oklahoma allows you to establish a trust for the care of pet animals. The requirements for pet trusts are set at 60 Okl. St. § 199. If the value of the assets in the pet trust does not exceed $20,000.00, no accountings are required unless otherwise ordered by a court or required by the terms of your trust.
Consequently, if you want to ensure accountability by the caretaker of your pet, make sure to include a requirement for accountings in the terms of the trust agreement for your pet trust.
The statute does also require you to designate a remainder beneficiary of the assets of the trust in the event that assets remain when the trust terminates. Unless you specify an earlier time for the pet trust to terminate, the trust will automatically terminate when no living animal is covered by the trust, at which time, any remaining assets in the trust will be distributed to the remainder beneficiary.
In addition, the pet trust can be used to specify instructions for your family members to give you the peace of mind that your pet will be cared for after your death in accordance with your wishes.
Conclusion
If your family includes furry friends, don't forget to plan ahead for your pets. If your pet survives you, to ensure that the costs of care for your pets don't fall upon someone who is unwilling or unable to care for them, these plans should include designation of a caretaker of your pets, instructions for their care, and the financial support necessary to ensure that the costs of pet care don't create a burden for your pet's caretaker.
If you need an attorney who understands the importance of planning ahead for your furry family members, call Ball Morse Lowe at 405-701-5355.