Ball Morse Lowe attorney Kimberly Wurtz has been appointed to serve as part of the Oklahoma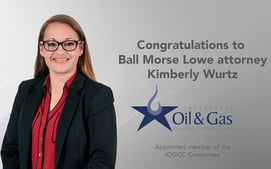 delegation for the Interstate Oil and Gas Compact Commission (IOGCC). Ken Wagner, the Official Representative to the IOGCC for the State of Oklahoma, announced the Governor of Oklahoma's appointment of Attorney Wurtz, following her presentations on produced water research at this year's annual meetings.
The Interstate Oil and Gas Compact Commission is a multi-state government entity promoting conservation and efficient recovery of our nation's oil and natural gas while protecting health, safety and the environment. The Commission hosts annual conferences and business meetings to provide an effective forum for states, industry, Congress, and the environmental community to share information and viewpoints to advance our nation's energy future, in a more unified, cooperative effort.
The IOGCC is composed of 500 elite members within the energy sector, as explained by Wurtz's former University of Oklahoma Law professor and current IOGCC delegate, Joe Dancy. "In my book, [she is] one of the most qualified on the IOGCC."
Kimberly Wurtz will serve on the Interstate Oil and Gas Compact Commission's Energy Resources, Research and Technology Committee, as well as the Legal and Regulatory Affairs Committee. To learn more about Attorney Wurtz, please visit her attorney profile.