While American energy continues remain the most valuable resource to our nation, Ball Morse Lowe attorney Kimberly Wurtz has been asked to speak to the Interstate Oil and Gas Compact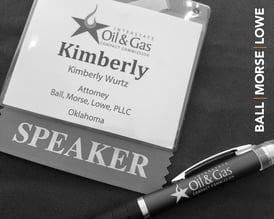 Commission's 2019 Annual Business Meeting this week in Oklahoma City. The presentation, entitled, "Mixing Oil and Water: Groundwater Concerns with Oil and Gas Development" sparks a roundtable discussion on concerns and issues regarding oil and gas exploration and production.
The conference will feature networking, planning sessions, and committees regarding oil and gas topics that greatly impact these resources in the United States. BML attorney Kimberly Wurtz will share best practices during the IOGCC's Annual Business Meeting.
"I'm very fortunate and excited to be speaking to the Council of State Oil and Gas Attorneys for the IOGCC about water use and management in the oil industry," says attorney Kimberly Wurtz. She serves on our experienced oil, gas and energy team at Ball Morse Lowe and was also recently invited to present at the 2019 Produced Water Society Seminar.
The Annual Business Meeting will take place over numerous days as a preface to the Interstate Oil & Gas Compact Commission's 2019 Annual Conference this August. The IOGCC's Annual Conference in North Dakota is one of the most highly anticipated meetings with other state regulars, federal officials and industry executives. For more information on the IOGCC, please visit their website at http://iogcc.ok.gov/.