Ball Morse Lowe is grateful to have been recognized by our clients, colleagues, and community with three nominations for this years Norman Transcript Readers' Choice Awards. David Morse is one of the five finalists for Best Attorney and BML is in the running for Best Law Firm and Best Place to Work.
The final round of voting is live now (http://www.normantranscript.com/readerschoice) and ends in less than a week. We would love it if you would take the time and effort to cast a vote for BML and all of your other Norman favorites!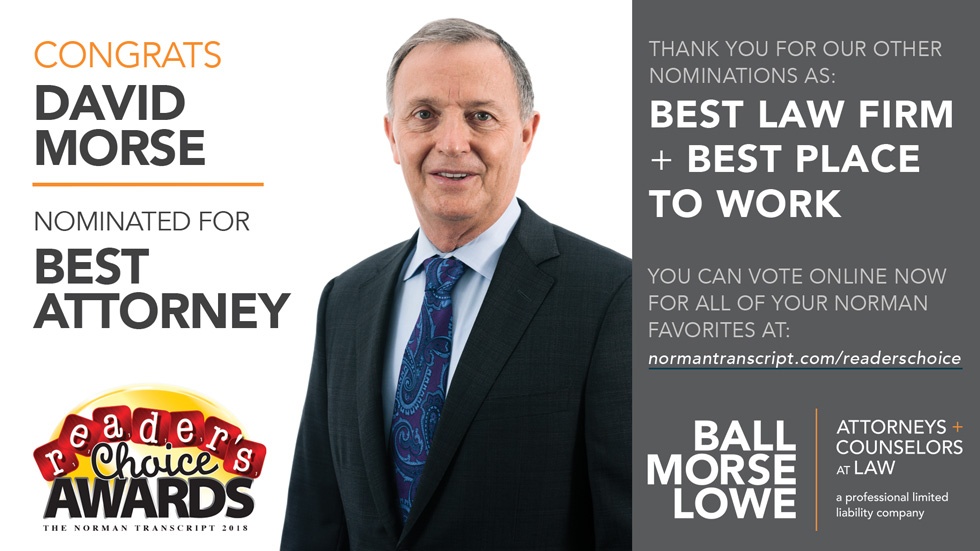 Step 1 - Getting an account
You'll need to set yourself up with a FREE account. Fill out and submit the registration form. You'll be sent an email to authenticate your account. After you have authenticated your account you can log in and start the voting process.
To submit a ballot, CLICK HERE to login or register.
Step 2 - The voting process - open from January 29,2018 through February 12, 2018
To vote, all you need to do is click on the "To submit a ballot, CLICK HERE to login or register."option and login.
Check the boxes of a business or individual to vote on and click SUBMIT and you're good to go!
PLEASE READ THIS:
You are required to fill out 25% of the ballot

to be counted. This equals 49 categories you must cast a vote in.


If you are having technical difficulties with registration, please email

mark@normantranscript.com with your name, user name, email address and the nature of your problem.


Only one vote per registered user

in the contest this year, not one vote per person per day.

(See official contest rules.)