The Journal Record reporter Molly Fleming stopped by to chat with some of the BML team to discuss the new Oklahoma City Office.
We are excited to be a larger part of the OKC community where so many of our existing clients are. Here is an excerpt from the visit:
NORMAN – The Ball Morse Lowe law firm is stepping outside the city with its third office location.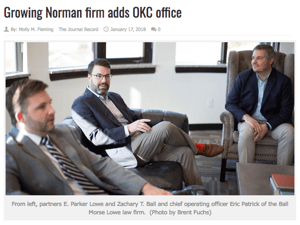 The multi-practice firm is moving into 4,000 square feet in downtown Oklahoma City. The firm will finally have its own place for meetings at 531 Couch Dr. The Norman office is at 3201 S. Berry Rd. and there's an office at 112 N. Second St. in Purcell.
Partner E. Parker Lowe said they had used meeting space at Bank of Oklahoma, MidFirst Bank, and Trustmark Title.
"Since the inception, we've always seen clients in Oklahoma City," Lowe said. "This was the next logical step for us."
Read Molly's full coverage here: http://journalrecord.com/2018/01/17/growing-norman-firm-adds-okc-office/