Family Law, Business Law, Criminal Law
Certain legal matters require assistance from an attorney. In situations involving legal disputes,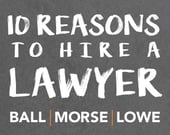 challenges or deals, it's wise not to risk going in alone without having an experienced lawyer at your side. While good legal representation ranges in cost depending on your case, trusting a professional can help you save expenses in the long run.
The legal professionals at Ball Morse Lowe have over 100 years of combined experience to help resolve your legal matter. Failure to work with an attorney often leads to extended court processes, lost claims and sometimes even prison time. Below are the top ten reasons to hire a Ball Morse Lowe attorney:
Law Procedures Can Be Complicated
An experienced lawyer has years of thorough studying, research and legal training under their belt. Typically, attorneys are specialized in one or more legal practice areas. At Ball Morse Lowe, our attorneys have individual specialists for Family Law, Estate Planning, Personal Injury and Oil and Gas.

Without the help of an experienced attorney, a solid case with potential can quickly be dismissed and specific legal situations can quickly face pitfalls.


Not Having a Lawyer Could Cost You More Money
You may ask yourself, "What's at stake?" Some cases may determine whether or not you spend time behind bars. In these situations, it's best to go with a knowledgeable attorney who can guide you through every step of the way. Hiring a lawyer in some instances could potentially save – or even make you – money.


Attorneys Know How to Take Charge
Without legal training, you might not be able to properly utilize evidence to move your case forward. The attorneys at Ball Morse Lowe will work diligently to ensure you have the right details and necessary information to get your legal matter resolved.
Filing the Wrong Documents or Following Incorrect Procedures Could Ruin Your Case
Attorneys are used to deadlines and protocol for filing and filling out legal documents. One late or incorrect filing could potentially derail your entire case – meaning delays, or even having it thrown out altogether.



Ball Morse Lowe Has Access to Expert Networks


Attorneys often depend on extended networks of professionals in order to help their clients in any circumstance. Our team engages with different industries to ensure our clients' every advantage.
Show up to Court Presenting the Strongest Case
With an attorney on your side, they'll help explain all of the possible options and outcomes of your case beforehand, potentially helping you avoid severe penalties before a trial even begins.


Lawyers Can Help Avoid Problems Rather Than Fix Them Later
Hiring a lawyer sometimes helps you avoid possible legal headaches down the road. Understanding the fine print, legal terms and agreements set in place will be much easier with a professional guiding you every step of the way.


Lawyers Are Trained to Negotiate
On most occasions, our attorneys have worked on a case similar to yours or can predict the outcome based on previous experiences. They can offer you the best solution for your situation and negotiate a fair settlement with the opposing party.


Other Parties Usually Have Legal Representation


Going in alone puts you at a general disadvantage, and leaves you open to being blindsided. The legal world is intricate and complicated, and opposing counsel will likely take advantage of this inequity.




Ball Morse Lowe Provides Free Consultations
We want you to be able to trust your attorney and know you will be thoughtfully represented, no matter your matter. Our team of specialists will gather some details regarding your case and match you to the right attorney to ensure you feel carefully guided and comfortable through each phase of the process.
Ready to Hire?
The sooner you hire professional counsel, the sooner an attorney will fight to get you the best possible outcome on your legal matter. Feel relief in knowing that at Ball Morse Lowe our team of experienced attorneys are just a click or phone call away. Give us a call at 405-701-6376 to receive personalized and confidential answers to your questions today.