News, Oil, Gas, + Energy, BML Events, Oklahoma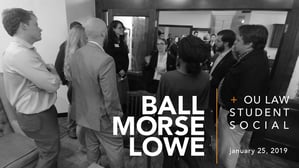 University of Oklahoma College of Law students took pride in attending an Energy Student Social at Ball Morse Lowe's Norman office. The open house served as a welcoming invitation to tour BML offices and learn more about #BMLLife.
With Ball Morse Lowe continuing to expand and grow, the firm's open house gave current OU Law students the opportunity to tour offices and ask questions to attorneys.
The student social was held in partnership with OU's Oil and Gas, Natural Resources, and Energy Society, also known as ONE S. ONE S encourages student members interested in the oil and gas or energy sector to actively learn and network with their peers and industry professionals during events such as the student social.
For more information about Ball Morse Lowe's Norman location, feel free to contact us at 405-701-5355.