Estate Planning, Oklahoma
Do you have a child who is eighteen years of age, or nearly eighteen? If so, it's time to start planning! All eighteen-year-olds need to have their own estate plan that includes a General Durable Power of Attorney, a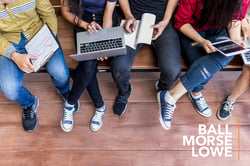 Health Care Power of Attorney, an Advance Directive ("Living Will"), and a HIPAA Release. Read more below about each document and why they are important for your future grad to have:
General Power of Attorney
This document gives a parent the authority to sign documents on the student's behalf and gives the parent access to their student's financial accounts.
Health Care Power of Attorney
This important document allows a parent to make medical decisions in the event their student is unable to do so. This document goes hand in hand with the Advance Directive and the HIPAA Release.
Advance Directive (Living Will)
An advance directive outlines the student's wishes about end of life decisions regarding life-extending medical treatment and organ donation.
HIPAA Authorization (Health Insurance Portability and Act)
A stand-alone HIPAA Authorization ensures that you have access to your student's medical records. In most families, students remain on their parents' health insurance while in college. Even if your student is on your health insurance policy, you are not entitled to access their medical records unless your child has authorized you to do so.
Why these documents are necessary
All eighteen-year-olds should have these legal documents prepared and signed before they go to college. It is important to talk to your student about privacy and about when these documents would be used, which is typically only in the case of an emergency. Since eighteen-year-olds are "adults," they are entitled to make their own decisions regarding who their agents will be. Discuss the importance of naming agents who are responsible and who will make good decisions on the their behalf. Most eighteen-year-olds understand that their parents are supporting them through college and happily name their parents as agents, but it is important that they understand they don't have to do so.

If you or your student need assistance with estate planning, please contact our office and we'll be happy to walk you through the process. If you have a student turning eighteen, ask our team about our Student Estate Planning Package.