Estate Planning, Estate Administation, Ball Morse Lowe, Estate Planning Attorneys Oklahoma City

Why is Ball Morse Lowe merging with Mugg Winston?
Ball Morse Lowe is merging with Mugg Winston, a leading law firm with an expanded estate planning practice, beginning October 1. 

We see an opportunity in the market for continued growth, as the COVID-19 pandemic exposed a need and shifted people's perspectives on planning for the future when it comes to personal estate management.

This merger will combine decades of experience with a shared mission to provide approachable legal counsel to all.

Expanding our estate planning area with the Mugg Winston team of experienced lawyers gives us the capacity to serve more clients.
What will this merger mean for me?
Our merger is going to provide an even higher level of service, as our team expansion will allow us more personal attention for each client.
How will this merger change the cost of services? Will your services be more expensive?
Current client rates will remain the same as when they signed their client representation agreement. We have no plans to raise rates but hope to achieve economies of scale that will produce a higher quality product for less cost in the future.
Will I be able to keep working with the attorney I was working with?
Yes, you will still be working with the same attorney and legal staff you previously engaged with.
Who is the main point of contact if I have questions?
Brian Hill will be the main point of contact. For inquiries, please call 405.701.6968 or email bhill@bml.law.
How much do you charge for a consultation?
Our initial consultations are free.
Do you have any special offers or discounts for services?
We are offering for the month of October, $500 off all new estate plans and $250 off any estate plan modifications for our previous clients.
What other legal services do you provide?
We provide legal services in Family Law – Divorce, Child Custody, Prenuptial Agreements, and Adoptions. We also provide services in Business and Litigation – Business Formation, Succession Planning, Transactions, and Civil and Commercial Litigation, Oil & Gas - Title Examination, .
Who should I reach out to if I want to learn more about your services?
Our thoughtful Client Advocates can guide you through all of our different estate planning and probate options. Please call 405.701.6179 or email

clientintake@bml.law

to connect with a Client Advocate today.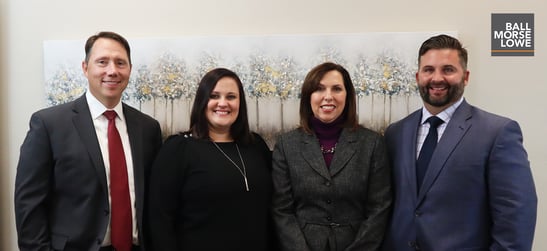 From left to right: Partners Brian Hill, Bria Winston, Christin Mugg, and Parker Lowe.