News, Oklahoma, Company Newsroom
Ball Morse Lowe PLLC partner joins OCU Law
OKLAHOMA CITY, OK – Ball Morse Lowe is proud to announce that Christin Mugg, one of our esteemed partners and estate planning attorneys, will be joining Oklahoma City University's School of Law as a professor.
We are excited about the opportunity she has been given to share her knowledge and passion for the law with future generations of legal professionals. Ms. Mugg has been and will continue to be an integral part of our estate planning practice. Her leadership and years of experience have been invaluable in shaping how we approach each new client's unique estate planning needs.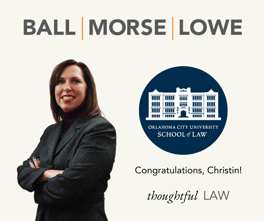 Although Christin will be focused on her new role with OCU Law, she will continue to practice in Ball Morse Lowe's estate planning group in an of counsel capacity, ensuring that our clients continue to benefit from her exceptional legal counsel.
Ms. Mugg's professionalism, dedication, and unwavering commitment to serving the clients' best interests continue to make a positive impact at Ball Morse Lowe and the estate planning community at large. We are grateful for her continued contributions to our firm and excited about her new role at Oklahoma City University.
About Ball Morse Lowe
Ball Morse Lowe is a trusted and respected law firm that specializes in estate planning and probate, family law, litigation, business law, as well as oil, gas and energy law with locations in Oklahoma, Texas, and Colorado. The dedicated team of seasoned attorneys is focused on providing legal solutions with empathy and precision. If you have any questions, please call 405.701.5355.