Energy & Natural Resources, Oklahoma, Company Newsroom
Ball Morse Lowe is delighted to announce that William J. Houser has joined the BML leadership team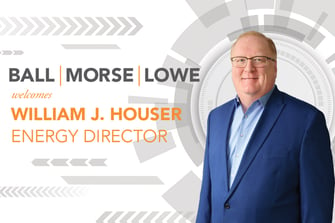 as Energy Director. Houser will assist in leading the Energy and Natural Resources strategy for Ball Morse Lowe as the firm continues to grow in 2020.
Will Houser brings a wealth of knowledge and strategic development experience to the firm. With a background leading highly regarded energy law firms in Houston and Denver, Will's industry experience has allowed him to become a powerful and persuasive attorney, specializing in the intersection of environment and economics – people, profits, and planet.
Prior to joining Ball Morse Lowe, Houser served as an in-house advisor for a publicly traded independent global energy company specializing in exploration and production. Will brings significant and substantive experience in renewable energy and/or infrastructure project development, project finance, and/or M&A for energy projects and businesses.
"Having Will join our Energy and Natural Resources team is a huge asset to our already strong team of Partners, Senior Attorneys, Associate Attorneys, and Legal Assistants," Chief Operating Officer Eric Patrick stated. "We are excited about the additional impact his experience will have on our current and future clients."
Houser's vast experience in oil and gas title examination, transactional work, due diligence, conservation and regulatory matters, as well as litigation will add to the experienced Energy and Natural Resources team at Ball Morse Lowe. For more information on Will Houser, visit his attorney page or contact us at 405-701-5355.