Divorce with Children, Child Custody, Child Support, Texas
There are a lot of misconceptions surrounding how child support works in Texas. We often have clients walk into our office, and they believe since they have joint custody or a 50/50 custody schedule that child support is not necessary.
Unfortunately, it's not that simple. To fully understand how child support in Texas works, we must first take a small look at how custody is designated in Texas.
How Child Custody Affects Child Support
What is commonly referred to as 'custody' is actually called 'conservatorship' in the State of Texas legal system. There are a few possible conservatorship designations for parents, and these designations determine each parent's rights and duties as they pertain to their child. Most often, parents are named "joint managing conservators" which gives each parent generally the same rights and duties to the child. There is also one parent who has the exclusive right to make a few decisions like the child's primary home and/or enrolling the child in a school.
This is a very basic summary of custody for the purposes of discussing child support.
How Custody and Visitation Relate to Child Support
So what does the conservatorship designation and custody schedule have to do with child support?
We get a big clue about how the courts in Texas view child support by reading the Texas Family Code, section 153.138 which states that,
"the appointment of joint managing conservators does not impair or limit the authority of the Court to order a joint managing conservator to pay child support to another joint managing conservator."
Confused? It just means the law in Texas makes decisions about conservatorship and its visitation schedule separately from decisions about child support.
In a situation with a standard possession order or an expanded standard possession order, the non-primary parent has the responsibility to pay child support. Child support is determined by a clear mathematical equation outlined in the Texas Family Code Title 5, Chapter 154. First, this equation calculates the non-primary parent's monthly net income. This is calculated by starting with that parent's gross income and deducting a few items like federal income taxes and possibly state income taxes. This leaves the court with a 'net income' which is then used to calculate the child support payment. The Texas Family Code section 154.125 provides the guidelines for determining child support and is based on a percentage of the net income depending on how many children are to be supported: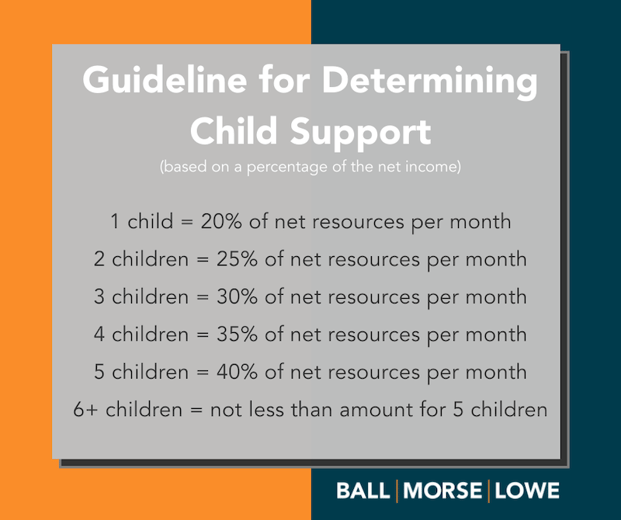 How 50/50 Visitation Affects Child Support in Texas
When a 50/50 custody split is in effect, the parent who is the higher earner can be ordered to pay child support. The court would do this to help equate the children's living environment and experience with both parents. However, if the parents earn similar incomes, they can agree that no child support is necessary since the child is dividing his or her time equally between the parents and both parents are able to provide similar environments and experiences.
Where You Pay Child Support in Texas
Child support in Texas is paid to the Office of the Attorney General, which also keeps track of all payments and arrears if payments are missed. 80% of all child support payments in Texas are made through wage garnishment, which means the money is taken out of your paycheck. This means no one needs to remember to pay this bill monthly, and allows parents to focus their conversations on parenting matters and they can avoid discussing child support regularly. If you would like to better determine what a possible child support amount may be, you can use this calculator to get an idea based on your personal situation.
If you have questions about conservatorship, a visitation schedule or child support in Texas we are here to discuss your case and work for you. While this might be your first time going to court to discuss these difficult matters, we have years of experience and expertise that will help you confront these challenges. Whether you have unexpectedly been served papers or are looking to revisit and modify an existing order, we can help. We are available at 214.272.0964, where you can set-up a time to have a consultation with one of our family law attorneys.