Family Law, Divorce with Children, Child Custody, Child Support, Oklahoma
Generally, the most difficult issues in a divorce case for parties are child custody and visitation. To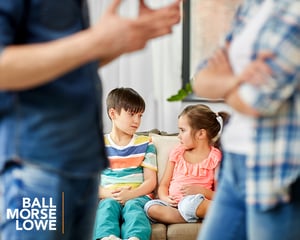 start, here is a brief overview of the divorce process in Oklahoma.
The Waiting Period
In Oklahoma, parties with minor children must wait at least ninety (90) days before being granted a divorce. This waiting period can be waived for good cause if neither party objects. Parties with minor children must also complete a parenting class before being granted a divorce. It is important to remember the ninety (90) day waiting period is the minimum. This means that if the case is complex and litigations, then a client can expect their case to last longer.
The Temporary Order
During the divorce process, there is an opportunity to have a hearing to determine certain responsibilities and rights, on a temporary basis. This is known as the Temporary Order. At a Temporary Order hearing, issues as minute as who pays for Netflix can be settled and issues as far-reaching as custody can as well. The client should always remember that these orders are temporary, hence the name. During the Temporary Order hearing, each party will have an opportunity to present their case and contest areas such as custody, visitation, property division and debt, etc. At any point, it is possible for the parties to agree and settle the case. If not, a Judge will be making those decisions.
So, Where Does Custody Come In?
Now that we have a brief overview of what the divorce process looks like, what is custody? Custody is the legal decision-making authority over the child. There are three different types of custody: 1) joint custody, 2) sole custody, and 3) joint custody with a primary or final decision maker. Joint custody, more and more common in Oklahoma, is shared-parenting or shared-decision making. Parties must work together on decisions, duties, and responsibilities for a minor child's care, both legal and physical.
The prevailing factor when considering which party will have custody of a child during a divorce is the "best interest" of the minor child. What does that mean? It means the court will look at several different factors and make a decision as to which party will have custody. These factors can include: 1) the preference of the child, 2) the emotional and physical needs of the child, 3) the parental ability of the party seeking custody, 4) stability of the home, etc. Custody may be granted to both parties on a temporary basis at the temporary order hearing and this is a more common trend in Oklahoma. However, each divorce situation is unique.
What if I believe joint custody isn't right for my child?
Joint custody is not for every couple. It requires the ability to communicate, facilitate visitation, and engage one another in decision-making. Absent considerations of domestic violence, drug and/or alcohol abuse, criminal activities, etc., the court will favor both parties having equal access to the minor child and keeping stability as the most important aspect for a child going through a divorce. If there are issues in your case that make it more complex and litigious, be up front about those issues with your attorney to avoid surprise and assist in being as prepared as possible. The court also has the ability to appoint what is known as a Guardian Ad Litem, an attorney appointed for the minor child, to serve their best interest.
Get Help From Ball Morse Lowe Today
The information presented in this blog is not legal advice and is not intended as such. If you have questions about your case, feel free to give us a call at 405-701-6376 to set up a consultation with one of our attorneys.