Litigation, Car Accident, Truck Accident, Oklahoma, Auto Accidents
Our busy lives and chaotic schedules keep us constantly driving. Recent studies show Americans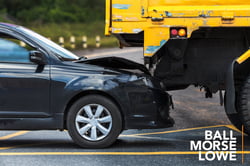 spend 70 billion hours collectively behind the wheel.1 So much time spent on the road increases the opportunity for accidents. On the highway vehicles known as big rigs, 18-wheelers, buses, commercial vehicles, or trucks can cause threat for major accidents by their sheer size. When commercial vehicles are involved, it is important to take the proper steps to ensure you or your loved one will be taken care of.
Here are the necessary steps to take when dealing with a commercial vehicle accident:
Stay at the Scene: Although you might feel overwhelmed, it is important to breathe and stay calm. This will help you get the most necessary information to further help your case. Remain at the scene unless immediate medical attention is required.

Check on Safety of Yourself and Others: If medical care is needed for yourself or any involved parties, it's essential to contact emergency services promptly. It is best to leave vehicles where they ended after the crash, but if able, you may need to move the vehicle for safety purposes. Even minor injuries should be taken seriously. Be sure to document everything in case medical reports are necessary for future use.

Call 9-1-1: With most accidents involving larger vehicles like semi-trucks, there will be "significant property damage" that must be assessed by local law enforcement. In Oklahoma, 47 O.S. § 10-1072 requires drivers to immediately notify their local police department, the county sheriff's office, or the nearest State Highway Patrol office if an accident results in any deaths or injuries. If the accident is property damage only (PDO), you are required to remain at the scene, disclose information, and provide reasonable aid, but you are not required to inform the police. Even if a police report is not required by law, it may still be required by your insurance policy. Having law enforcement there to redirect traffic and document essential information is best for both parties.

Capture Information: It is essential to collect all contact information with ALL PARTIES INVOLVED. Take photos and videos of damage to all vehicles as well as significant landmarks, tire skid marks, license plates, injuries, and other details that help capture the scene. Be sure to download our After Accident Checklist to have on hand to guide you through gathering all necessary information.
Have Your Case Evaluated by Ball Morse Lowe: Seconds following any car accident, the clock is ticking to file a truck accident lawsuit. If you have been involved in a commercial vehicle accident in the Oklahoma City metro area, contact Ball Morse Lowe to speak with an experienced truck accident attorney. Our knowledge and expertise will thoughtfully guide you through all of the proper steps following your accident to recover the property compensation you deserve. Call our offices today at (405) 701-5355 to set up a free and confidential consultation.