Personal Injury, Car Accident, Oklahoma, Auto Accidents
Ball Morse Lowe will occasionally answer questions submitted by clients or potential clients on our blog. This allows for others to receive guidance in similar situations.
Question:
I was driving at night and a driver ran into my vehicle. When we got out to assess the damage, they notified me they were uninsured and couldn't afford to fix my vehicle. What are the next steps in this? Do I need to file a lawsuit to get my car fixed?
Answer: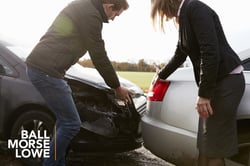 We're so sorry to hear about your accident, and hope everyone involved is safe and unharmed. In the state of Oklahoma, liability coverage is required by all motor vehicles to cover others injured in an accident. Unfortunately, sometimes drivers disregard the law and do not keep current or valid insurance policies.
If ever involved in a similar situation, it's best to follow these procedures:
Call 9-1-1: It's extremely important to call the police as soon as possible after an accident with an uninsured driver. The police will investigate the accident and fill out a report detailing what's occurred. Law enforcement officers will verify the other driver's insurance information and confirm whether they are uninsured. If your accident occurred in Oklahoma City, you may use our Oklahoma City Auto Incident Request to receive a copy of the police report.
Contact your insurance company: Following the accident, it is important to contact your insurance agent and inform them of the accident. It is important to see if you have Uninsured Motorist / Underinsured Coverage (UM/UIM). UM coverage will cover damages you suffered as a result of the accident.
Even with insurance, sometimes getting the proper recovery might be a battle. This is where gathering evidence becomes important. Utilize our After-Accident Checklist to gather details to help your case and contact a personal injury attorney to understand your options.
Understand your legal options: Seek the help of the personal injury team at Ball Morse Lowe, who can handle UM/UIM claims and review legal options. Our experienced attorneys can review the details and determine whether pursing a civil claim is appropriate on a case-by-case scenario.
Our team at BML aims to give thoughtful approaches to guide you back to a peaceful life. We strive to provide the best possible service at all times. Contact us today or give us a call at 405-701-5355 to schedule your free initial consultation.