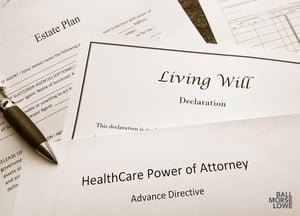 Choosing either a will or a revocable trust as the foundation of your estate plan is often the first step in the estate planning process.
Both documents allow you to create a plan for the distribution of assets upon death, as well as name a person (or persons) who will be responsible for administering your estate and distributing your assets.
However, there are significant differences between the two documents that should be understood and examined before making a decision.
Planning for Incapacity
A will only speaks at death and provides no planning for incapacity. A guardian may have to be appointed by the court to manage your affairs and make your decisions if you are incapacitated. On the other hand, a trust provides planning for incapacity.
If you become incapacitated, the named successor Trustee will step in and manage the trust assets and make distributions from the trust for your benefit. Typically, no guardianship proceeding would be required if a trust is in place.
Avoiding Probate
Probate is the court process to determine the heirs and distribute assets of a deceased person. The word probate means "to prove." If an individual dies with a will, the will must be proved through the probate court. Probate proceedings can be costly and time-consuming.
Because probate is governed by state law, if property is owned in more than one state, probate proceedings in each state where real property is owned may be required. A revocable trust can avoid probate.
If your trust is properly funded (meaning all property is transferred to the trust during your lifetime), no probate will be required. Instead, the Trustee will distribute your assets according to the provisions of the trust.
Privacy
If a probate is required, the will must be filed with the court and becomes public record. Many court records can even be found online. The wills of Whitney Houston, James Gandolfini, Philip Seymour Hoffman and Andy Rooney are all public record because they were filed with the probate court. A trust provides privacy because the probate process can be avoided if the trust is funded properly.
Time and Cost
Generally, it will cost less to have a will prepared. It may cost more to have a trust prepared, and a trust will require more time initially because your assets will need to be transferred to the trust. However, upon incapacity or death, the trust can save your loved ones considerable time and money in avoiding guardianship and probate proceedings.
Conclusion
For many individuals, a revocable trust is the best choice as the foundation of the estate plan because it includes planning for incapacity, avoids probate, provides privacy and can save time and money in the long run. Whether you choose a will or a trust, these documents are only one part of a comprehensive estate plan.
Proper estate planning should also include: appointment of a healthcare proxy and healthcare power of attorney, discussion and instructions for end-of-life care, appointment of a guardian for minor children, a financial power of attorney, and planning for beneficiaries who are unable to properly manage money and property (for a variety of reasons) or who have special needs.
Consult with an attorney experienced in estate planning to help you understand your options so that you can make the best choice for your estate plan. Call Ball Morse Lowe, PLLC today for a consultation at 405-701-5355.