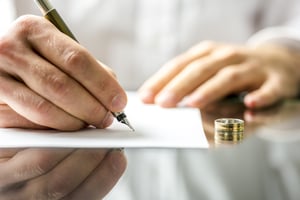 Whether it comes as a surprise or if it was a long time coming, being served divorce papers can be an overwhelming experience. Most people aren't able to think clearly in the days, or even weeks, that follow. While you don't necessarily have to act immediately, you'll need to provide a response to the petition and take the necessary steps to choose legal representation and secure your finances. In today's blog, we'll be sharing how to handle this situation (both emotionally and practically).
What should I do?
If you are in a heightened state of emotion, don't contact your spouse. It's also wise to avoid engaging in arguments with your spouse and to minimize interactions until you've spoken to legal counsel. Instead, the first step after being served court papers is to accept and read them. The situation may leave you feeling hurt, confused or angry – which aren't states you necessarily want to be in when beginning the process. Take the first few days to draw support from your family and friends. Use this time to digest the situation and begin looking into your options for representation.
How does the process work?
When being served, you're given a court summons and a petition and most likely an copy of the automatic temporary injunction. A summons asserts the power of the court to hear and determine the case. It sets a deadline by which you must file an answer to the petition and explains your obligations (such as a required court appearance).
The petition is a pleading that initiates civil action. Essentially, it states the legal foundation for the court having jurisdiction over the case and details what your spouse is requesting in the divorce. You might also be served with additional papers that need to be reviewed. The automatic temporary order tells you want you can and cannot do regarding your finances and children. This temporary order is in effect until the Court orders otherwise.
If you're feeling any confusion or concern about the divorce papers, you should consult with an attorney as soon as possible as they may need time to prepare your response. They'll help you better understand the communications and deadlines in the divorce process as well as help file you a counterclaim if needed. In a counterclaim, you respond to your spouse's allegations as well as include the terms you hope to achieve through the divorce.
How can I organize myself?
As soon as you're served, you'll need to start getting yourself organized by gathering important records pertaining to your case. In this free ebook, we highlight 20+ documents to obtain right now. We also teach you how to log and document communications throughout the divorce process. Click below to access your free copy of the ebook now.
How do I respond?
When filing a answer, you must also provide a copy of your answer to your spouse. This puts both the court and your spouse on notice that you'd like to be involved in the case. This protects your rights and ensures proceedings aren't taking place without your knowledge. Once you've been served, the clock starts. In Oklahoma, you have 20 days to file a responsive pleading. If you fail to answer and counter-petition within that time frame, a default may be taken against you.
If you miss the deadline to respond, contact an attorney immediately so you can request that you receive permission to file an answer out of time. As indicated above, if you did not respond, your spouse may be able to proceed without you.
What are the next steps?
Once the court receives your response, if the matter is contested, you will need to file a Motion to Enter to have this matter set on the trial docket. If the matter is uncontested, you can inquire of the Court as to when and how you can present an agreed Decree.
What should you do financially?
After you've been served divorce papers, you'll need to turn your attention towards your monetary standing. Gather copies of your financial records, assets and begin developing a plan for any joint accounts. You may also want to consider cutting back on expenses and relocating money into a savings account for upcoming court costs.
Regardless of the situation, don't purposely leave your spouse without any means of supporting themselves or the obligations of the home. Act deliberately, but also be reasonable. If any children are in the picture, try to hold back the natural urge to argue with your spouse in front of them. If you care about the aftermath of the divorce, you'll have a much more solid stance both with your family and before the court.
In Summary
If you've received divorce papers recently, you must act swiftly and appropriately. A false move early on could risk potential difficulties regarding settlement or child custody. Being served doesn't have to be a traumatizing experience. With the right information in your pocket and an experienced divorce attorney by your side, you'll be able to navigate the situation as smoothly as possible.
To learn more about divorce in Oklahoma or how our team can assist in your case, we encourage you to reach out to us today at (405) 701-6376.