Oil + Gas, Oklahoma
Despite wavering trends in the oil and gas industry, rig data provider Enverus, formerly Drilling Info, has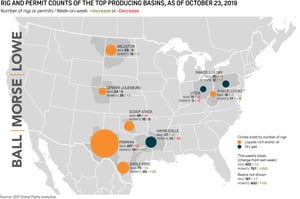 reported oil and gas rig counts increasing by two this week. The US oil and gas rig count currently stands at 902 this week, amid a downcast earnings season, characterized by uncertainty across many fronts.
While oil-directed rigs rose by four, increasing to 728, gas-chasing rigs decreased by two, to 169. The US oil and gas rig count at 902 is currently at 2017 levels - although at the time rig counts were rising.
Rigs seeing Heights
The most notable increase occurred in Eagle Ford Shale in South Texas, which added five rigs, totaling up to 75. Gas-prone Haynesville Shale rigs in Northwest Louisiana / East Texas were up two, totaling 57. Rigs remained steady in the Williston Basin of North Dakota / Montana and the Denver-Julesburg Basin.
Drops in Rigs
While some held steady, other locations were not as lucky. The SCOOP-STACK play in Oklahoma fell by four rigs, leaving 46. This cap on rigs, as previously discussed by Ball Morse Lowe attorney Haley Dennis, typically occurs during price fluctuation of natural gas. The Dry and Wet Marcellus shales residing predominately in Pennsylvania lost four rigs total. The Utica Shale in a similar region in Ohio also declined by two rigs, settling at 15.
Upcoming Reporting and Predictions
Large oil giants, like Halliburton and Schlumberger, report initial earnings which set a dim light for upcoming larger oil-focused exploration-and-production companies prepare for third-quarter reporting in the next few weeks.