Estate Planning, Probate, Title Examination, Oklahoma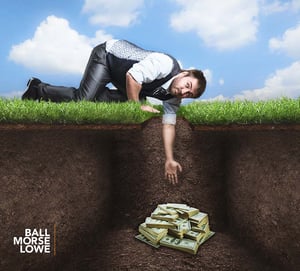 What if I told you that you were entitled to thousands of dollars due to various mineral interests owned by a long lost relative?
While it might sound like wishful thinking, it actually happens quite often in Oklahoma. People from all around the United States could recite story after story about receiving phone calls from an Oklahoma oil company or an Oklahoma landman telling them that they were likely entitled to money attributable to certain mineral interests owned by one of their ancestors.
However, the promise of payments from proceeds of production of oil and gas usually comes with a catch—the title to "your" interest needs to be corrected (made "marketable") before any funds can be paid.
While it might sound like a daunting task, curing title is something that the attorneys at Ball Morse Lowe thoughtfully handle on a regular basis, and there are a few ways we can assist you in securing your minerals and any funds that might be associated with them.
Generally, the three primary methods for curing title defects to mineral interests are through probate proceedings, quiet title and judicial determination of heirs proceedings, and affidavits of heirship.
Probate
In most cases, the best means for creating marketable title to mineral interests is to initiate probate proceedings in Oklahoma District Court. Whether the owner died with a Will (Testate) or without a Will (Intestate), any interested party can probate the estate.
In the final decree entered by the probate court, the heirs of the record mineral owner will be determined, and the Oklahoma assets (including all mineral interest now known or later discovered) will be distributed either in accordance with the decedent's Will or in accordance with Oklahoma laws of intestate succession. The final decree will need to be recorded in the office of the county clerk in which any of the property is located.
Even if probate proceedings were conducted in another state, Oklahoma probate proceedings are still necessary to properly distribute minerals or any other real property located in the State of Oklahoma.
In general terms, there are three procedural mechanisms for probating an estate in Oklahoma: 1) ancillary proceedings under 58 O.S. § 677; 2) summary administration proceedings under 58 O.S. § 245; and 3) regular probate proceedings under Title 58 of the Oklahoma Statutes.
Quiet Title and Judicial Determination of Heirs
If probating the estate is not warranted, then you can initiate Quiet Title proceedings under 12 O.S. § 1141 and/or obtain a Judicial Determination of death and heirship under 84 O.S. § 257.
While these methods may not be appropriate in every circumstance, and are often less complete than probate proceedings, they can be a very effective and cost-appropriate means of obtaining marketable title to specific and identifiable mineral interests within Oklahoma.
Affidavit of Heirship
A third potential means for clearing title to mineral interests is through an Affidavit of Heirship. In most instances, an Affidavit of Heirship will not be sufficient to provide marketable title. However, you can rely on an Affidavit of Heirship when it complies with the requirement in 16 O.S. 67.
As the foregoing statute indicates, in order to provide marketable title, the Affidavit must have been filed of record for 10 years in the office of the county clerk in which the real property is located.
Further, during the 10 year period following the recording of the Affidavit, no instrument inconsistent with the heirship alleged in the Affidavit can be filed in the office of the county clerk in which the real property is located.
Thus, while an Affidavit of Heirship will typically not be sufficient to provide marketable title to severed minerals, it can be a helpful tool for giving notice to third parties (such as oil and gas operators) of the names and locations of probable heirs to the record mineral owner.
Conclusion
Probates, quiet title actions, proceedings to judicially determine heirs, and affidavits of death and heirship can all sound a bit overwhelming to someone who just discovered they might own some Oklahoma minerals through a long lost (or not-so-long-lost) relative.
However, the thoughtful attorneys of Ball Morse Lowe are ready to put their experience to work for you, in order to clear the title to your minerals. You never know, you might just be unlocking found treasure.